Confident Speaking at Meetings
The masterclass on
- What to say
- How to say it
- How to feel good while you're saying it! 
Do you hate the thought of speaking at meetings?
Are you frustrated that, even after all this time you still feel stressed?
Are you fed-up of hiding, playing small?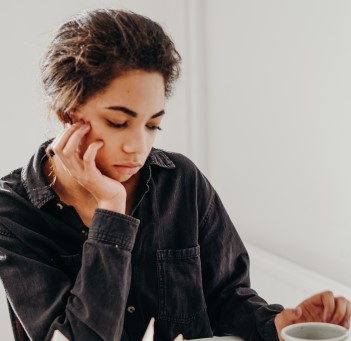 I get that it feels impossible to stop the heart-pounding, brain-freezing feeling of panic.
It's not as if you haven't done this dozens of times before. You've been in endless meetings and it still feels awful. 
And the worst part is other people don't seem to get it, it feels like it's just me who's stuck with this. 
Introducing...

The Confident Speaking at Meetings Masterclass
The good news is it is possible to:
plan and structure what to say so that it lands with real impact.

use your words, voice and body authentically - look and sound like you mean what you say!

feel confident and comfortable in your own skin while you say it.
Using strategies that are evidence based, researched and proven to work, you can learn to master the skills needed to communicate confidently, have the impact you intend and to feel good while you're doing it.
Get a real sense of achievement when you see the impact you're having, the way you are growing in confidence, getting braver in what you're prepared to try.
And others will notice too - you're stepping up, being seen and owning your role!
"This has taught me about ways we make an impression, and how to make a good one. It has re-enforced what I knew about pace and made me feel more confident and positive. Some very handy tips on handling questions too."
Sally
"I enjoyed the course, it was well presented and structured. The highlight for me was to learn how to deal with anxiety and how to get more confident.
I just enjoyed how Margaret delivered the course. "
Dr. Sladjana Malic
I know it feels impossible but the first step is to stop. When just turning up and doing more of the same isn't working for you, you know you need a better plan. 
I'm not talking about magic or miracles but an approach that step by step, gives you the tools to align your intentions, with the energy of your message and finally your actions.
Start with clear intentions about what you want to communicate in your meeting.
Then let's look at, practically, how do you do that?! You already know - just let me remind you!
Finally let's look at what you need to feel good during the process.
Dr Margaret Collins 


Former Academic and researcher.
For many years as a researcher I was comfortable knowing I was good at what I did. I got on with my job, produced good results and waited for someone to notice.
I didn't feel comfortable speaking up or presenting so I tried to avoid the obligation to speak or present at meetings. Some were fairly low-key, informal even. Others were for much more serious business or involved formal presentations. I preferred to stay out of the spotlight.
I eventually realised that keeping a low profile wasn't serving me well.  
I used to think that some people were just naturally good at speaking up or making a good impression. I didn't see it as a skill set that could be learned, a skill set that I could learn, but fortunately, that changed...
It took me time to understand how to use meetings well. I learned to communicate confidently, with integrity and authenticity. This wasn't about "blowing my own trumpet" as much as getting out of my own way. It was helping myself and my colleagues get clear on the value of what I did and what I knew. 
I learned some simple strategies to communicate more effectively and soon I began to create the results and the impact I wanted.
Fortunately, if you change your thoughts and you can change your experience. 
When you understand, step by step, the new skills you need you can learn to develop them, one at a time until you're ready to put the whole package together - and it can feel like everything is different.
Like learning how to drive a car, this skill set of confident speaking can be learned.
I know you probably don't feel it will work for you but, like learning how to drive, we can master one skill set at a time.
So let me share with you what I've learned...
from 20+ years as a researcher and Senior Lecturer
from 20 years experience as a trained professional coach
after delivering training workshops for thousands of happy clients
from establishing my own business while caring full time for a sister with disabilities
As a researcher I was driven by the question "How does it work?" I still ask that question, about performance, about impact and yes, about confidence. How does it work and how can I make it work for me - and for you.
I've invested decades in learning, in reading and applying the strategies and tools I will share with you.
I've done the time so you can gain the benefits. "I feel like there has been a big shift in how I am seeing myself, in my being able to articulate to myself and, very importantly, to others, who I am and what I do, and, feeling that I have a valuable contribution to make. "
What do you get?
I could talk about confident speaking for hours but I get it, you're busy! I know you'd like me to give you a magic wand, to make the fear go away, the confidence to appear...
What about I do the next best thing and distil the best bits of my experience into a 90 minute masterclass? Then let me chunk that down some more so you can watch or listen to just the bit you need, right now. Here's what you get:
The benefit of 30 years of experience as a successful research academic, coach and professionally credentialed trainer, distilled into a short series of videos.
A masterclass in how to feel more confident while delivering well structured content, all edited into bite-sized videos you can easily digest.
Each of the videos displays slides with an audio track expanding on the detail, explaining ways to apply the learning. 

Videos are subtitled - watch where and when you want. Subtitles mean it's easy, even when commuting.
Masterclass Distilled
In 90 mins you get the benefit of 20+ years experience.
Essential questions
How to clarify what you really want from a meeting.
About Meetings
What makes a good meeting and how do you contribute to that?
Structure your contribution
Craft your content for relevance, impact and engagement.
Creating confidence
Understand how our thoughts beliefs and our body influence how we feel.
About anxiety
Accept that a little anxiety is normal and learn techniques to make it work for you!
Slide content for reference
Any time you need a reminder, refer to the slides.
Subtitled
Watch where and when you want. Subtitles make it easy.
Have I convinced you already?
If you know this resource is for you, click the button below!
Sign up now for £67!
If you are ready to learn how to feel more confident while speaking at meetings, save yourself the stress and frustration of doing it all alone. "I found the content very interesting and enjoyable. I learnt lots of interesting facts and useful techniques that I can use not only in meetings but also in other situations inside and outside of a work environment."
Got Questions?
These are some of the questions people most frequently ask me:
Will this really work for me?
These tools work. Some tools will suit you better than others. If you watch the video and apply the learning, things will change for you. If you make time to use them you will see the results for yourself. 
How long will it take to cover the content?
I've distilled the content into short sections. The total viewing time is about 90 minutes but you can get benefits from watching even one video. The modular structure makes it easy to watch one section at a time.
Where can I watch the videos?
The videos are designed to work on any laptop, PC or mobile device. The videos are subtitled so you can watch without disturbing anyone else.
What if I'm not happy with my purchase?
I've described the content as honestly as I can. I use the strategies myself. I've shared this with thousands of clients who freely tell me how well it works for them. I believe many of these will work for you. If you have listened to the content, applied the strategies and you don't believe it's helping you communicate more effectively, please do email me, I'd love to help you get the results you want.